Home
Film
Il ritorno dello Jedi
Il ritorno dello Jedi, cast e trama del film
Il ritorno dello Jedi è un film del 1983 di genere Avventura/Azione/Fantascienza, diretto da Richard Marquand, con Mark Hamill, Harrison Ford, Carrie Fisher, Billy Dee Williams, Anthony Daniels, Peter Mayhew. Durata 134 minuti. Titolo originale: Return of the Jedi.
Trama Il ritorno dello Jedi
Mentre gli Imperiali sono impegnati nella costruzione di una nuova e indistruttibile Morte Nera, Luke Skywalker diventato finalmente un cavaliere jedi, la principessa Leila, Chewbacca e i due droidi D3BO (C-3PO nome originale) e C1P8 (R2-D2 nome originale) cercano di liberare Ian Solo (Han Solo nome originale), che è prigioniero del criminale intergalattico Jabba.Per poi affronta il crudele alfiere del male Lord Vader (Darth Vader nome originale), scoprendo che gli è padre e che la principessa Leia è sua sorella, ma l'insurrezione non ha successo e Luke viene catturato dell'imperatore, che cerca di portare il giovane dalla sua parte. Terzo (o meglio sesto) e ultimo episodio della saga ideata da George Lucas.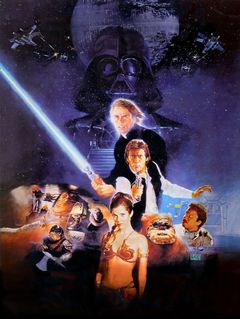 Avventura / Azione / Fantascienza


Trailer del film Il ritorno dello Jedi
Ti potrebbero interessare