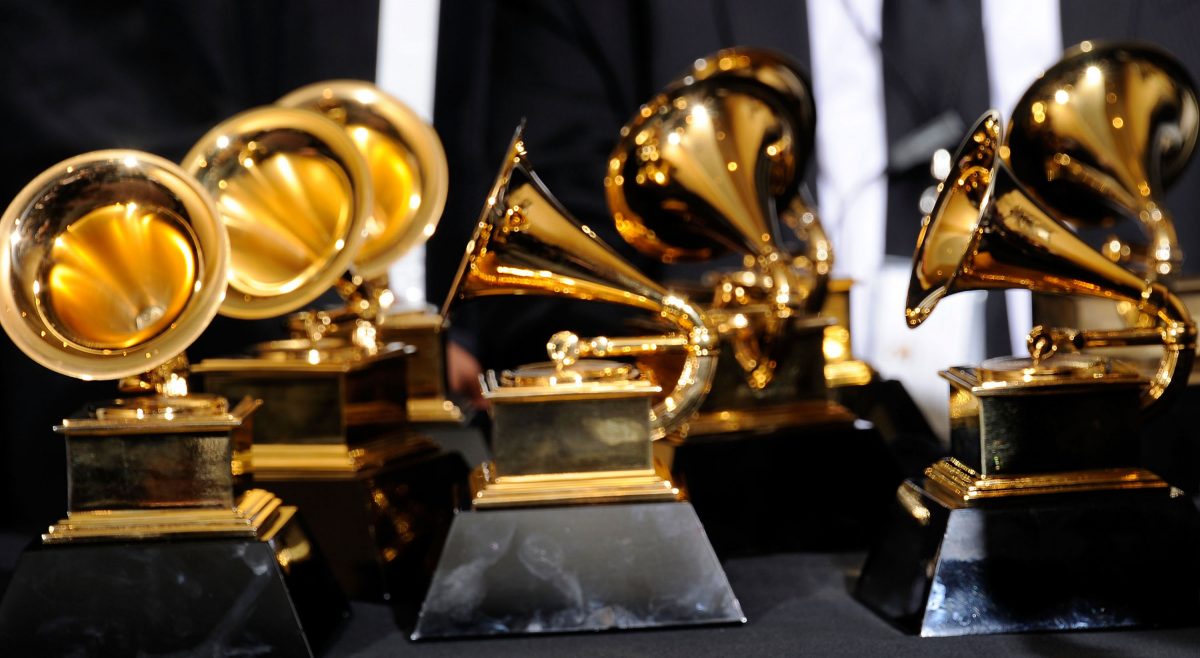 Laura Pausini e Andrea Bocelli saranno gli unici due artisti a rappresentare l'Italia, rispettivamente nelle categorie Best Latin Pop Album e Best Traditional Pop Vocal Album ai  Grammy Music Awards 2017
Un bel traguardo per questi due artisti che portano alta la bandiera dell'Italia nel mondo per quel che riguarda il bel canto.
A cui si aggiunge anche Ennio Morricone in lizza per alcune colonne sonore originali.
Sarà James Corden a presentare la 59esima edizione del premio più prestigioso per musicisti, interpreti e produttori.
Il  noto conduttore del Carpool Karaoke, consegnerà i grammofoni d'oro in diretta il 12 febbraio 2017 da Los Angeles.
Eccovi  la lista delle varie categorie che concorreranno per la vittoria
ALBUM DELL'ANNO
25 — Adele
Lemonade — Beyoncé
Purpose — Justin Bieber
Views — Drake
A Sailor's Guide To Earth — Sturgill Simpson
SINGOLO DELL'ANNO
Hello — Adele
Formation — Beyoncé
7 Years — Lukas Graham
Work — Rihanna Featuring Drake
Stressed Out — Twenty One Pilots
CANZONE DELL'ANNO
'Formation' di Beyoncé — composta da Khalif Brown, Asheton Hogan, Beyoncé Knowles & Michael L. Williams II
'Hello' di Adele — composta da Adele Adkins e Greg Kurstin
'I Took A Pill In Ibiza' di Mike Posner — composta da Mike Posner
'Love Yourself' di Justin Bieber — composta da Justin Bieber, Benjamin Levin e Ed Sheeran
'7 Years' di Lukas Graham — composta da Lukas Forchhammer, Stefan Forrest, Morten Pilegaard & Morten Ristorp
BEST NEW ARTIST
Kelsea Ballerini
The Chainsmokers
Chance The Rapper
Maren Morris
Anderson Paak
 BEST TRADITIONAL POP VOCAL ALBUM
Cinema — Andrea Bocelli
Fallen Angels — Bob Dylan
Stages Live — Josh Groban
Summertime: Willie Nelson Sings Gershwin — Willie Nelson
Encore: Movie Partners Sing Broadway — Barbra Streisand
BEST LATIN POP ALBUM
Un Besito Mas — Jesse & Joy
Ilusión — Gaby Moreno
Similares — Laura Pausini
Seguir Latiendo — Sanalejo
Buena Vida — Diego Torres
BEST INSTRUMENTAL COMPOSITION 
Bridge Of Spies (End Title)
Thomas Newman, composer (Thomas Newman) Track from: Bridge Of Spies Label: Hollywood Records
The Expensive Train Set (An Epic Sarahnade For Double Big Band)
Tim Davies, composer (Tim Davies Big Band) Track from: The Expensive Trainset Label: Origin Records
Flow
Alan Ferber, composer (Alan Ferber Nonet) Track from: Roots & Transitions Label: Sunnyside Communications, Inc.
L'Ultima Diligenza Di Red Rock
– Versione Integrale Ennio Morricone, composer (Ennio Morricone) Track from: Quentin Tarantino's The Hateful Eight Label: Decca Records
Spoken At Midnight
Ted Nash, composer (Ted Nash Big Band) Track from: Presidential Suite: Eight Variations On Freedom Label: Motema Music
BEST SCORE SOUNDTRACK FOR VISUAL MEDIA
Bridge Of Spies – Thomas Newman, composer Label: Hollywood Records
Quentin Tarantino's The Hateful Eight – Ennio Morricone, composer Label: Decca
The Revenant – Alva Noto & Ryuichi Sakamoto, composers Label: Milan Records
Star Wars: The Force Awakens – John Williams, composer Label: Walt Disney Records
Stranger Things Volume 1 – Kyle Dixon & Michael Stein, composers Label: Lakeshore Records
Stranger Things Volume 2 – Kyle Dixon & Michael Stein, composers Label: Lakeshore Records
Curiosità
Beyoncé è l'artista con più candidature della storia del premio americano, 62 nomination e 20 grammofoni d'oro già vinti.
L'elenco di tutte le categorie è lungo, perché i Grammy stabiliscono anche le eccellenze nel campo della musica jazz, gospel, country e via di seguito.